FSP-II Vertical 3-side Heat Seal Packaging Machine
Vertical 3-side Heat Seal Packaging Machine

This heat sealing machine has the flexibility to pack a wide variety of products
from tea bags to film sachets.
●New developed weigher* enables you to produce precisely measured tea bags.
●Nitrogen gas-filling* prevents oxidation. Every single sachet can keep the taste and aroma fresh right before drinking.
 (Both of weigher and Nitrogen gas-filling device are optional.)
●Capacity up to 100 bags/min.

Packaging Method
3-Side Heat Sealing
Measurement Method
Standard: Slide Doser Weighing
Option: Load-Cell Weigher, Auger Filler
Packaging Materials
Paper, Laminated Film or Non-Woven Fabric and any suitable materials for heat sealing
Filter Width
100–200 mm
Bag Size
Width: 50–100 mm
Length: 40–120 mm
Capacity
50–100 bags/min.
Dimensions
670 (W) x 850 (D) x 1,770 (H) mm
Weight
340 kg
Power Supply *
3-Phase / 200 V / 2.2 kW
Compressed Air *
180 L/min. (6 bar)
CE Marking **
Not Available
* Transformer for local voltage and dried compressed air to be prepared by the customer.
** Fail-safe design based on CE directive.
Option
●Weighing System (Load-Cell Weigher, Auger Filler etc.)
●Slide Doser Vibrator
●Nitrogen Gas-Filling Device
●Date Printer
Layout
■FSP-II in Standard Specification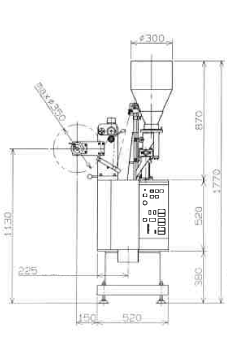 Front view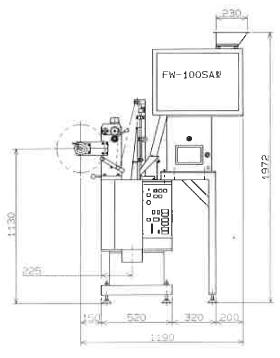 Right side view
■FSP-II with Load-Cell Weigher, FW-Series (Optional)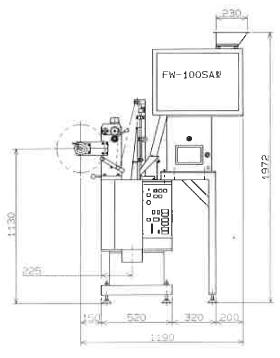 Front view