This Canning machine has high fexibility for materialby changing filling and weighing system.
Matcha powder, Loose tea, Coffee bean & powder, Tea bags, etc.
●Various of tin sizes are available. (The standard size range is shown on the back)
●Easy to maintain, clean and to change parts.
●Capacity up to 960 tins/hour.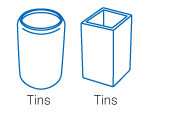 Tin * Size
Diameter: Min. 55–Max.100 mm
Height: Min. 95–Max. 170 mm
Capacity
Max. 16 bags/min. * Depends on specification
Feeding System
Standard: Load-cell Weigher, P-230
Option: Volumetric slide doser, Auger filler, Multiple weigher, Vibratory bowl feeder
Dimensions
2,885 (W) x 1,985 (D) x 2,050 (H)
Weight
710 kg (Main Body)
Power Supply **
3-Phase / 200 V / 0.4 kW (Canning System)
Single-Phase / 100 V / 0.6 kW (Load-cell weigher)
Compressed Air **
40 L/min.
CE Marking ***
Not Available
* Tin must be metalic and cylindrical body. (Square body is also possible by using adjsutment parts.)
** Transformer for local voltage and dried compressed air to be prepared by the customer.
*** Fail-safe design based on CE directive.
Option
●Material filling system (Volumetric slide doser, Auer filler,Multiple weigher, Vibratory bowl feeder)
●Lifter (Material feeder)
●Date printer
●Vacuum seamer with Nitrogen gas filling (Semi-Auto)
Layout
■UC-LK with Load-cell weigher P-230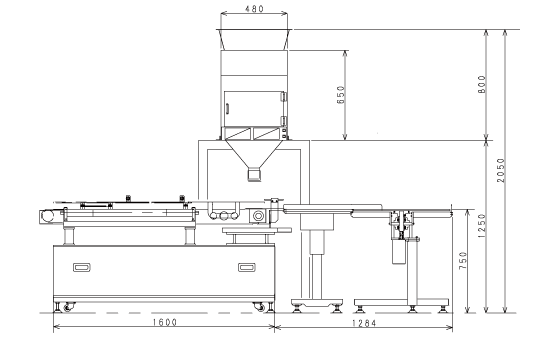 Front view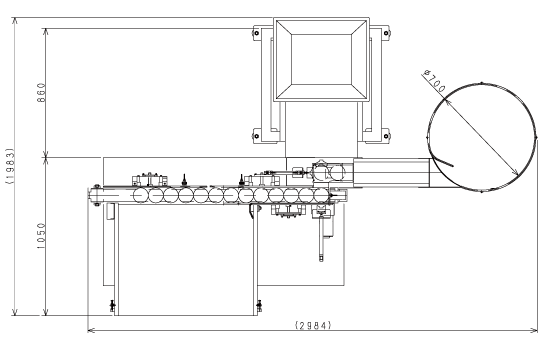 Top view