FSP-III Vertical 3-side Heat Seal Packaging Machine
Vertical 3-side Heat Seal Packaging Machine

This heat sealing machine has the flexibility to pack a wide variety of products
from tea bags to film sachets.
●New driving technology makes heat sealing stronger.
●High speed capacity with new rotary doser and latest control technique.
●User-Friendly design and stainless body for food safety.
●Capacity up to 120 bags/min.

Packaging Method
3-Side Heat Sealing
Measurement Method
Standard: Rotary Doser Weighing
Option: Load-Cell Weigher, Auger Filler
Packaging Materials
Paper, Laminated Film or Non-Woven Fabric and any suitable materials for heat sealing
Filter Width
100–200 mm
Bag Size
Width: 50–100 mm
Length: 40–130 mm
Capacity
Max. 120 bags/min.
Dimensions
1,275 (W) x 855 (D) x 1,810 (H) mm
Weight
275 kg
Power Supply *
3-Phase / 200 V / 2.0 kW
Compressed Air *
180 L/min. (6 bar)
CE Marking **
Not Available
* Transformer for local voltage and dried compressed air to be prepared by the customer.
** Fail-safe design based on CE directive.
Option
●Weighing System (Load-Cell Weigher, Auger Filler etc.)
●Interlock Function with Tea Bag Packaging Machine
●Interlock Lifter (FK-1)
●Dust Collection Device
●Bitten Bag Detector
●Date Printer
Layout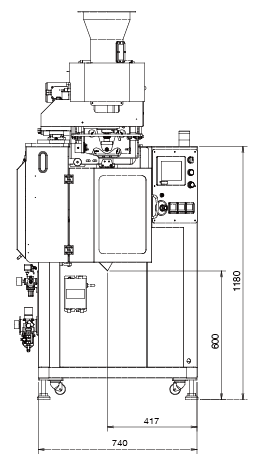 Left side view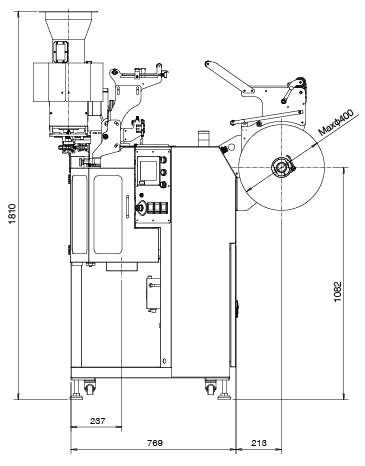 Front view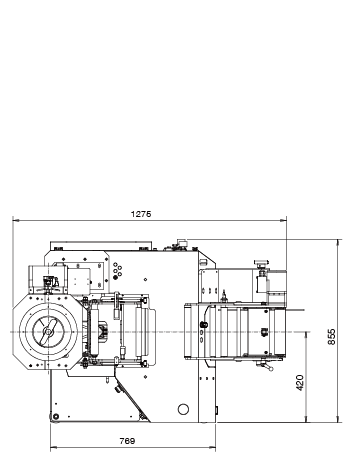 Top view