FP-50S Tea Bag Packaging Machine
Tea Bag Packaging Machine

Outstanding Production of Triangular Tea Bags.
●Beautifully shaped tea bag by ultrasonic sealing & cutting.
●Easy to produce tea bags by using pre-tagged flter material.
●Meets CE safety requirements for customers who need a CE. certified machine.
●Capacity up to 50 bags/min.

Packaging Method
3-Side Ultrasonic Sealing and Cutting
Measurement Method
Standard: Slide Doser Weighing
Option: Load-Cell Weigher, Auger Filler
Packaging Materials
Nylon, Non-Woven Fabric, and any suitable filters for ultrasonic sealing
Filter Width
120–180 mm
Tea Bag Size
Triangular: 50–80 mm (each edge)
Rectangular: 40–80 (W) x 50–80 (L) mm
Capacity
Max. 50 bags/min.
Dimensions
670 (W) x 800 (D) x 1,990 (H) mm
Weight
335 kg
Power Supply *
3-Phase / 200 V / 2.0 kW
Compressed Air *
250 L/min. (6 bar)
CE Marking **
Standard
* Transformer for local voltage and dried compressed air to be prepared by the customer.
** Fail-safe design based on CE directive.
Option
●Weighing System (Load-Cell Weigher, Auger Filler etc.)
●Poking Device for Sub-Hopper
●Slide Doser Vibrator
●Chute Knocking Device
●Multiple Feeding Device for Long Bags
●Acrylic Cover for Packaging Material Roll
●Various Size of Chutes (120 mm, 140 mm, 160 mm, 180 mm etc.)
Layout
■FP-50S with Load-Cell Weigher, FW-Series (Optional)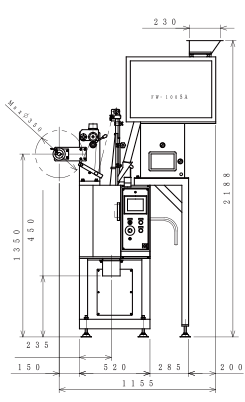 Front view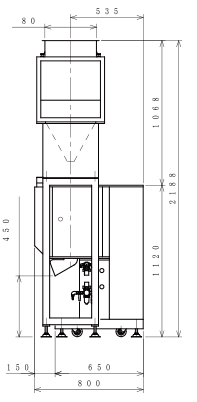 Right side view
■FP-50S in Standard Specification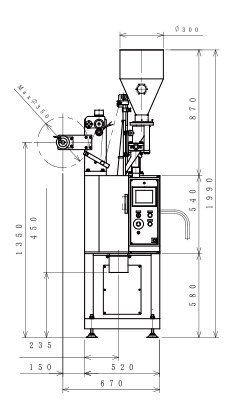 Front view